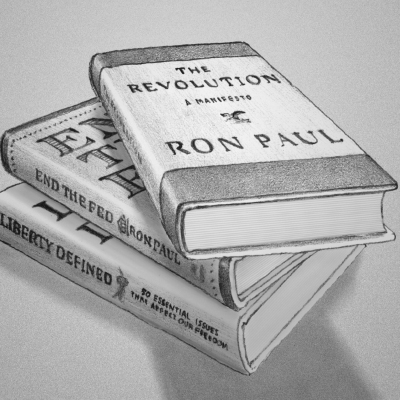 "It is error alone which needs the support of government. Truth can stand by itself"
~ Thomas Jefferson
"The number one responsibility for each of us is to change ourselves with hope that others will follow" ~ Ron Paul
These are samples of a few of the 27 illustrations for Mat Blankenship's new book "Meet Ron Paul". (Click here for a larger slideshow)
Illustration has always been on my long list of things I'd love to do… what luck that my first opportunity is of a subject so close to my heart! As a self-employed family guy, this was kinda tough to fit in… but the tireless effort of Ron Paul himself inspired me to somehow make it happen. It was also the confidence I have in what Mat has written. It includes some recent history – much of which, as you probably know, was ignored by the mainstream media. This is definitely at least part of what the book offers… that which we must not allow to go missing from history… "the truth". Mat did a great job! My hope is that the illustrations will communicate with the same sort of clarity.
Mat's motivation for writing the book as I've understood it, is that if a child looks up "Ron Paul" at their school library, there should be something there for them to find and read that gives them the real story. You can make sure that this happens by buying a copy and donating it to a school near you. We believe this book will help spread the message of liberty, so please help us get it out there through social media and email.
UPDATE: The book is available now at the publishers website… also the official "Meet Ron Paul" book site is supposed to go up any moment now. Oh, and there it is – meetronpaul.com is up. I heard the book will also be available on Amazon in a few weeks.